Tinnitus affects sufferers in different ways, whilst most individuals with the complaint will refer to the symptoms as a 'ringing' in the ears this is certainly not the only description and it is commonly described as a buzzing, hissing, whistling or humming but ultimately it all still amounts to the same condition.
To those lucky enough not to have the condition it may sound relatively trivial but nothing could be further from the truth.
As with most medical conditions there are varying degrees of severity but at its worst tinnitus can have a very serious impact upon the life of the sufferer causing sleep deprivation and inability to concentrate which may need substantial and on going medical intervention.
Clear Law are experts in claiming compensation for tinnitus and noise induced hearing loss sufferers.
Our specialist solicitors can recover significant compensation amounts for the unfortunate victims of this industrial disease – and as we only ever accept cases on a no win no fee basis you do not have to pay an legal costs if you case is unsuccessful through no fault of your own.
Contact Clear Law today and speak to one of our experts to see if we can help you make a no win, no fee claim for compensation. Call us now on 0800 122 3036 for free, no obligation advice about your claim – or fill in our online claim form to start your claim today.
Free, No Obligation, Jargon-Free Advice
We won't confuse you with medical or legal jargon and your personal claims handler will always be just a phone call away throughout the duration of your claim. We never lose sight of the fact that you are the victim and this is your case. If you need to make a claim for compensation following a personal injury, contact us today so that we can talk you through the process at a time convenient to you.
If you just want to ask us a quick question, remember you are under no obligation and all of our advice is free of charge. If we can help you with a claim, all of our solicitors offer an efficient service with no up-front fees.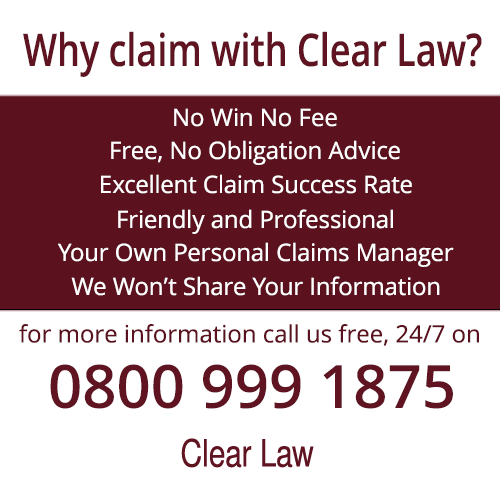 We Have Made It Simple
At Clear Law we have made it simple to quickly assess the level of compensation you may be entitled to.
Our compensation calculator helps you to see at a glance the level of compensation you can get for your claim, but if you would like to talk it through first then one of our experienced team members would be happy to help.
Complete our free call back form and someone from our claims team will be able to help you today! The amount of compensation you can claim depends on the type of accident or injury and how serious it is. Our compensation calculator will tell you how much you may be able to claim for your personal injury.
There are also rules on limitation and how long after an accident or injury you can claim. To find out more about the rules on claiming compensation, see our 'can I claim?' page. If your injury is complicated or you would like more advice on a specific injury, complete our call back form and we will call you back at a time convenient for you.
No Win No Fee Solicitors
When you contact us you will not be asked to pay any money whatsoever upfront. Even if your claim is unsuccessful through no fault of your own, you will never be asked to pay anything to anyone.
Find out how Clear Law can help you make a
no win no fee claim for compensation –
contact us now on 0800 122 3036.